► New Citroen C5 Aircross is here
► Will it take sales from Peugeot?
► Here January 2019, priced from £23k
The new Citroen C5 Aircross follows hard on the heels of the innovative C3 and C4 Cactus, offering a blend of distinctive styling and what promises to be superior comfort when it goes on sale in the UK at the beginning of 2019. Prices have now been confirmed and it'll cost from £23,225 in Great Britain.
For that money you get a 12.3-inch digital instrument cluster and an eight-inch touchscreen as standard, as well as wireless smartphone charging. Three time levels will be offered to Brits: Feel, Flair and Flair Plus.
For fans of the company, the major point of interest in this otherwise conventional C-segment SUV is its suspension system. When launched in China in 2017, it was the first production car application of Citroën's long-touted comfort suspension with 'progressive hydraulic cushions'. Here, the C4 Cactus beat it to market in getting this feature – and very effective it has been.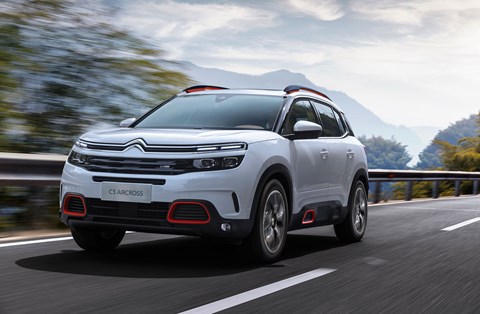 It also marks the arrival of the company's first ever hybrid, which – when it arrives at the tail end of 2019 - will be Citroen's most powerful car ever thanks to an overall output of 296bhp. 
We're getting used to the new Citroen design cues…
The C5 isn't really just a scaled-up C3 Aircross, even if there are many similarities. You get blacked-out window pillars and two-tone roof bars. These come in either red or silver accents, which are a nice element, but despite the C5 Aircross being a 'soft-roader', its Airbumps have been toned down.
Citroën's recurring trapezium shape is mirrored in the bodysides and bonnet, while the 3D rear lamp graphic, with its folded B-shape appearing to collapse in on itself, is a touch of genius. Overall, it's a handsome evolution of Citroën's design language introduced with the C4 Cactus hatchback and C3 supermini.
Inside, the simple, horizontal dash design is reminiscent of the C3's, but with more upmarket finishes including 3D woven mesh and Nappa leather. The driver gets a 12.3in digital instrument binnacle which can be configured according to individual information preferences, combined with an 8.0-inch touchscreen relaying navigation with real-time traffic info or your smartphone controls for Apple CarPlay or Android Auto.
What engines does the Citroen C5 Aircross come with?
When the Citroën C5 Aircross goes on sale in the UK in January 2019, it will come in a variety of engine options. All power units are compliant with the latest-generation Euro 6.2 emissions regulations.
For petrol lovers, there will be a PureTech 130 S&S with six-speed manual alongside the PureTech 180 S&S. There will also be three diesel variations: the BlueHDi 130 six-speed manual, BlueHDi 130 S&S and BlueHDi 180 S&S. Citroen says that the eight-speed auto (EAT8 in PSA-speak) offered on the more powerful cars is 7% more efficient than the outgoing six speeder.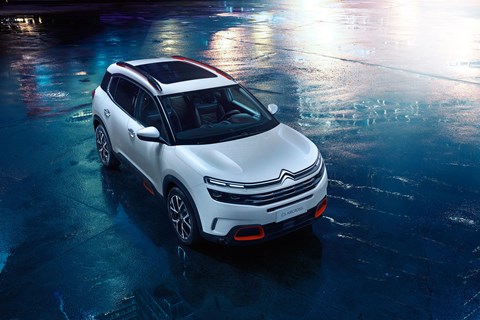 The big news is that the Citroen C5 Aircross will also be available in PHEV form. Citroen says that the new SUV will be available from 'late 2019' with a 300hp petrol-electric plug-in hybrid powertrain shortly after launch, making it the only model in the range with four-wheel drive. The Aircross PHEV will be able to drive up to around 40miles on battery only
What are the C5's dimensions, interior space and tech specs?
In terms of size, it's 4.5m long, 1.84m wide and is 1.67m tall. The boot capacity is 580 litres, and up to 1630 with the seats folded, which puts it slap-bang in the middle of the Peugeot 3008/5008 pairing, and right on target to compete with the Nissan Qashqai, Volkswagen Tiguan, Ford Kuga and big-selling Renault Kadjar.
But what sets the C5 Aircross apart is that Citroën is going all out to put out the message that this will be the SUV market's most cossetting car car. 'It will be the most comfortable SUV on the market,' says Citroën product development chief Xavier Peugeot. 
That's a big ask, as the PSA sister cars, the Peugeot 3008, 5008, DS 7 Crossback, and Vauxhall Grandland X are hardly what you'd describe as poor-riding cars. The C5 Aircross gains its advantage via the Progressive Hydraulic Cushions that act on both the compression and rebound action of the shock absorber, which act at the end of the car's suspension travel to gradually calm a wheel's vertical movements.
Citroën says these hydraulic cushions – a secondary reservoir of damping oil – absorb kinetic energy as it's displaced, gradually slowing the vertical movement while eliminating rebound. This system allows the engineers to deploy a softer suspension setting but with sufficient body control. 
What is the Citroen C5 Aircross like inside?
There is plenty of space inside the C5 Aircross. It boasts terrific headroom and knee-room, and unsurprisingly, Xavier Peugeot claims it's best in class compared with the Ford Kuga, Volkswagen Tiguan and the Peugeot 3008. You can put that down to the Aircross's above-average 2730mm wheelbase.
The seats are wide and comfortable, with an optional massage system up front and, in the rear, a reclining backrest. The cockpit feels airy too, thanks to an elevated seating position, deep windows and an optional glass roof panel. It should be civilised too, thanks to an acoustically optimised windscreen and laminated double glazing in the front, plus precisely damped engine resonance.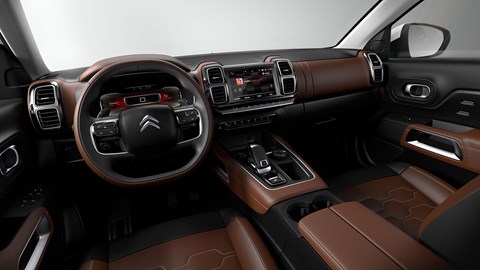 There's even a cabin 'air quality system', with a filter that stops tiny particles entering, aided by an external air quality sensor that advises the automatic air-con to optimise airflow to keep out pollution.
Finally, the driver gets plenty of safety kit to play with on top models with all the options ticked:
Autonomous Emergency Braking
Post-Collision Safety Braking
Active Departure Warning System
Active Lane Keeping Assist
Adaptive Cruise Control with Stop and Go
Collision Risk Alert
Coffee Break Alert
Driver Attention Alert
Extended Traffic Sign Recognition and Recommendation
Highway Driver Assist: combines Adaptive Cruise Control with Stop and Go
Active Lane Departure Warning System to manage driving semi-autonomously in specific driving conditions.
Intelligent Beam Headlights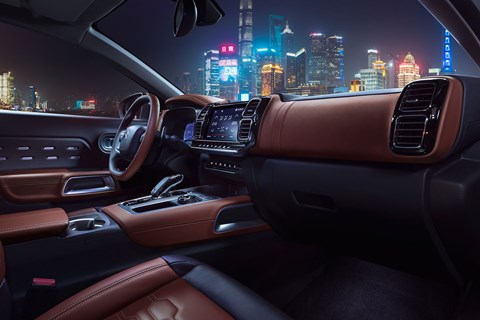 Citroen C5 Aircross Grip Control in lieu of four-wheel drive
PHEV aside, there won't be a conventional four-wheel drive C5 Aircross, despite chunky SUV styling. You'll be able to equip it with PSA's Grip Control system, which is operated by a rotary dial on the centre console.
It's a similar control arrangement to Land Rover's Terrain Response toggle, but less far reaching. Drivers can select off-road, snow, sand and turn off ESP to best tackle the surrounding terrain. The electronics are capable of apportioning torque accordingly to the front wheels to optimise traction.
How much, and when?
This promising SUV will arrive in Europe this winter, and Citroen says it will go on sale in the UK in January 2019. Citroen has confirmed prices starting at £23,225 for a PureTech 130 S&S six-speed manual and rising to £32,725 for a BlueHDi 180 S&S EAT8 eight-speed automatic. 
Citroen is getting its mojo back: exhibit C – or more appropriately exhibit C5 Aircross, a handsome and distinctive mid-size SUV due on European sale in 2018.
After exhibits C3 supermini and C4 Cactus comes a flagship SUV that builds on aspects of both, from the emphasis on passenger comfort and well-being to a clearly shared design language.
A couple of ground-breaking elements are also thrown in: the first production car application of Citroën's long-touted comfort suspension with 'progressive hydraulic cushions', and the French brand's first-ever hybrid which doubles up as its most powerful car ever.
Source : https://www.carmagazine.co.uk/car-news/motor-shows-events/shanghai/2017/citron-c5-aircross-2018-revealed-in-shanghai-news-and-pictures/
Thank you for visit my website