The Clubsport does retain traction control, stability management and anti-locking brakes, which can be adjusted separately by use of a dashboard-mounted switch. 
Porsche intends the car, which won't be road-legal, to be used at clubsport events and certain motorsport meets. 
Road-going GT2 RS raced at Goodwood
Priced from £207,506, the first new 911 GT2 since 2010 is also the fourth to enter production since the model name's introduction to the Porsche line-up in 1995.
Introduced by two-time world rally champion Walter Röhrl and Porsche GT boss Andreas Preuninger in the footage below, the new product of the Porsche Motorsport division takes the performance potential of the 911 to new heights.
A claimed 211mph also enables it to match the top speed of the plug-in hybrid-powered 918 Spyder. That makes the new 911 GT2 RS not only the quickest-accelerating but also the joint fastest road-legal series-production Porsche model yet.
The design of the new 911 GT2 RS closely follows that of the two-year-old 911 GT3 RS. The changes over other 911 models are mostly functional, with cooling requirements and additional downforce taking clear priority over stylistic concerns.
A wide central indent within the bonnet and roof and a two-tone paint scheme provide visual links to earlier air-cooled competition-focused 911s from the 1960s, 1970s and 1980s.
In a bid to trim weight, the bonnet, front wings, exterior mirror housings and many of the air duct surrounds are made from carbonfibre. In line with weight-saving initiatives used on the 911 GT3 RS, the new 911 GT2 RS also has a magnesium roof.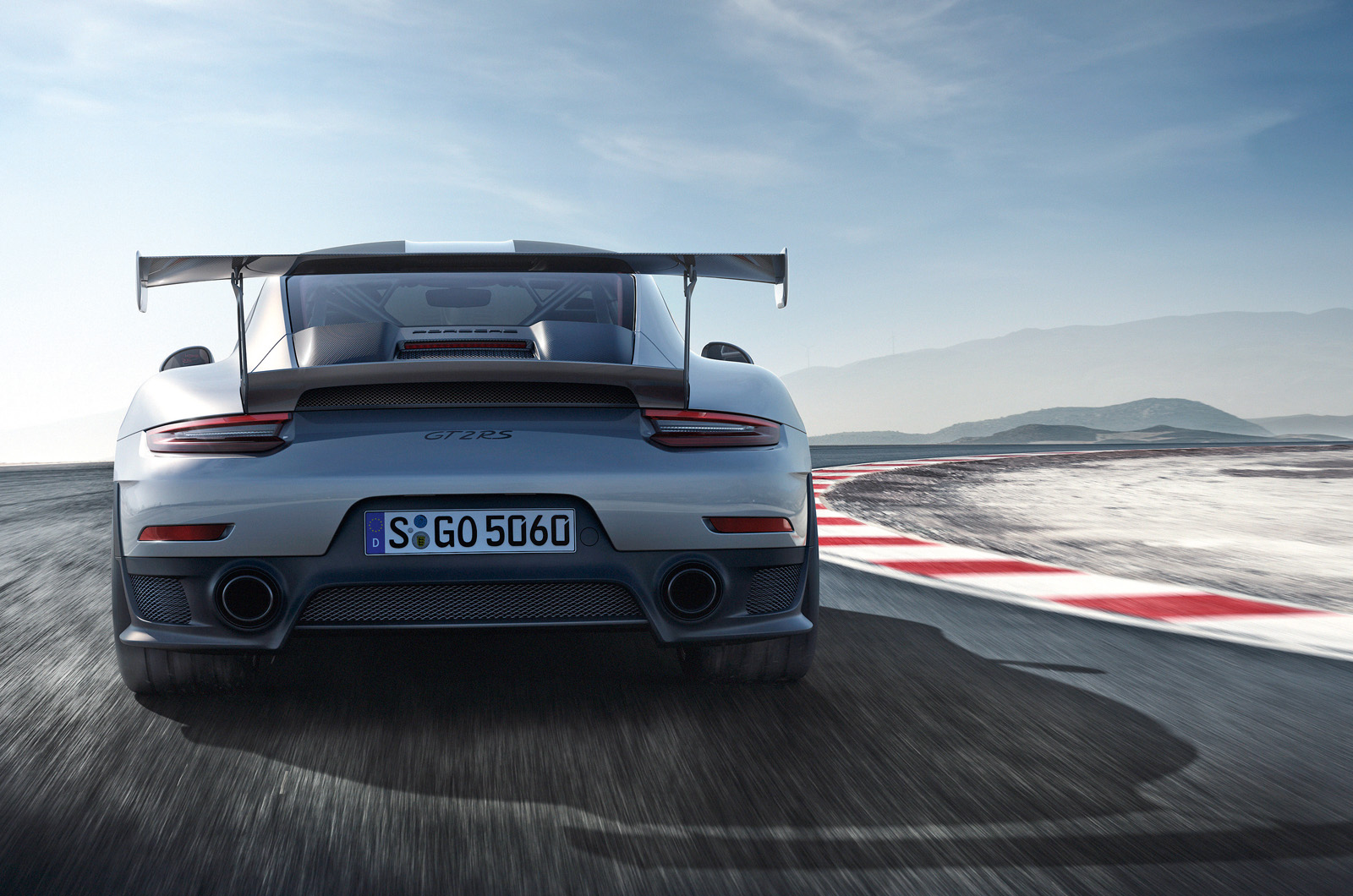 Mirroring the strategy taken with the 918 Spyder, Porsche is offering a £21,042 Weissach Package that takes an extra 30kg off the car's overall weight through various measures, including the adoption of carbonfibre for the roof and rollbars and magnesium for the wheels.
Among the powertrain developments are larger turbochargers with water-to-water intercoolers to reduce the exhaust gas temperature at high revs for improved combustion efficiency and extra top-end power.
There's also a titanium exhaust system, which is 7kg lighter than the standard unit and has a new routing that is claimed to enhance the exhaust note.
The car runs on the same-size wheels and tyres as the 911 GT3 RS: 20in centre-locking rims up front shod with 265/35 tyres and 21in rear wheels with 325/30 tyres.
Source : https://www.autocar.co.uk/car-news/motor-shows-la-motor-show/porsche-gt2-rs-gets-ultimate-track-only-clubsport-edition
Thank you for visit my website