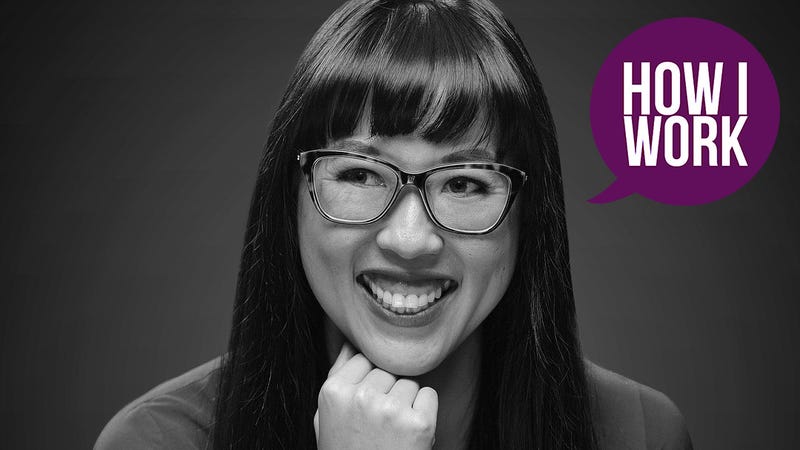 Photo: Sulmo Kim
Every week, we share the shortcuts, workspaces, and productivity tips of our favorite experts. This week, we're going behind the scenes at Lifehacker. I'm Michelle Woo, and this is how I work.
---
Location: I work remotely from my home in Southern California.
Current Gig: Parenting editor, Lifehacker
Current mobile device: iPhone X
Current computer: MacBook Pro
One word that best describes how you work: Fragmentedly
Advertisement
First of all, tell us a little about your background and how you got to where you are today.
I started my career as a newspaper reporter, covering schools and later fashion. I then worked as a staff journalist for various media outlets, including an Asian-American lifestyle magazine, the alt-weekly OC Weekly, and Reddit's former news site. Now I'm the parenting editor here at Lifehacker, a position that merges perfectly with this stage of my life because since I became a mom to my 5-year-old daughter Maggie, the perpetual question in my brain has been: "Parenthood is hard. How can I make it easier?"
Take us through a recent workday.
Wake up at 5:30 a.m. and write until 7. Help get my daughter ready for school (and put some real clothes on myself) from 7 to 8 a.m. From 8 a.m. on, look for story ideas, check in with my team on Slack, interview sources, communicate with our parenting writers, write, have meetings, and answer emails. Take a nap from 4 to 4:30 p.m. Pick up my kid from her after-school program. Have some family time. Go to sleep at 9 p.m.
Advertisement
Besides your phone, what apps, gadgets, or tools can't you live without?
I don't use a lot of productivity tools—mostly Stickies for lists, OneTab to clear out my tabs and group links together, and Brain.fm for some really good background noise.
Advertisement
What's your workspace setup like?
I move around the house with my laptop throughout the day, even more now that I'm 7.5 months pregnant and it's hard to sit in any one position for too long. I'll sometimes work at my dining room table, or on my sofa or standing at my kitchen counter. Working remotely gets lonely at times, so once a week or so, I'll work at a coffee shop because I need to be in the midst of some human chatter.
What's your best shortcut or life hack?
I say "I love you" in my head before I interact with someone. Not always, but pretty consistently. I picked this up from comedian Whitney Cummings, who talked about the technique on >The Tim Ferriss Show. It just makes you feel more present with whomever it is you're speaking with, whether it's a close friend or the Starbucks barista. Sometimes, I'll say it before I write. It reminds me that I'm not just typing into an empty abyss, but sharing something with other humans, and that's pretty awesome.
Advertisement
>
I say "I love you" in my head before I interact with someone.
Take us through an interesting, unusual, or finicky process you have in place at work.
I write a lot with pen and paper. It's just so much more calming than staring at 37 open tabs. I buy a bunch of cheap mini notebooks and keep them around the house. When I feel like I need some extra clarity, I'll step away from my laptop, grab one, and then either sit outside on my rocking chair or walk in circles around the house while penning some thoughts. The movement, along with the distance from the digital, unlocks my brain somehow.
Advertisement
Also, after writing something, I'll sometimes read it aloud in a voice that's different from my own (like I may pretend I'm a British newscaster), so I can hear what it sounds like. My writing process is pretty embarrassing, but luckily, I work alone at home so no one gets to see it.
Who are the people who help you get things done, and how do you rely on them?
One: my colleagues. I work with a lot of smart, witty, highly dedicated people who are just on it, and their energy fuels me through our conversations on Slack.
Advertisement
Two: the people in the childcare industry. Figuring out daytime arrangements for my daughter has been a long string of trial and error over the past five years—pre-parenthood, I never considered the logistical labor that moms and dads go through in order to simply go to work.
Three: my husband. He has supported me in many ways as a writer, which, as you probably know, is not the world's most secure profession.
Advertisement
How do you keep track of what you have to do?
I put big events on this beautiful wall calendar that is calming to look at. I also use Google Calendar. When researching stories, I take a lot of photos and screenshots of passages in books and articles that I find interesting and keep them in a folder.
How do you recharge or take a break?
I take short hikes, sans phone. I also get a lot of energy out of one-on-one chats with friends, so I try to schedule lunch and phone dates throughout the week.
Advertisement
What's your favorite side project?
I don't have a side project. Gosh, does everyone else have a side project?
What are you currently reading, or what do you recommend?
The last book that made a big impact on me is >Tell Me More: Stories About the 12 Hardest Things I'm Learning to Say by Kelly Corrigan. I love memoirs and this one is just so warm, honest and funny.
Advertisement
Who else would you like to see answer these questions?

Beth Skwarecki, Lifehacker's health editor. She has three young children and works out a lot. How does she do it all?

Advertisement

What's the best advice you've ever received?

With parenting, something I heard is that when little kids are melting down—say, lashing out and generally being terrors—it means that they're yearning for connection. So even if it goes against your instincts, what you can do is kneel down and give them a big hug. Hold them and just breathe. This works so well. I try to apply this advice to others in my life (at least in my head—I won't randomly hug you), and it also helps me take care of myself. If I'm feeling cranky or overwhelmed or mean, I need to stop what I'm doing, reflect on what I need, and sometimes reach out for help.

What's a problem you're still trying to solve?

How to stop overthinking everything. Sometimes I wish I were part robot.

The How I Work series asks heroes, experts, and flat-out productive people to share their shortcuts, workspaces, routines, and more. Have someone you want to see featured, or questions you think we should ask? Email Nick.

Advertisement

Source : https://lifehacker.com/im-michelle-woo-lifehacker-parenting-editor-and-this-1829059861

Thank you for visit my website