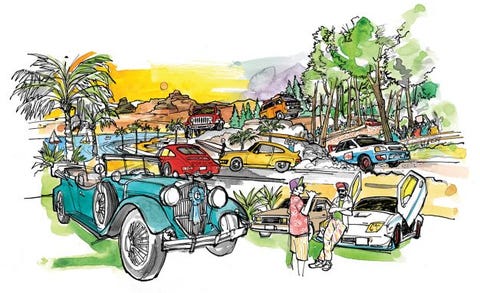 Corbis Sport/Getty Images, DeremerStudios.com, Marc Urbano, Michael Simari, and the Manufacturer From the March 2018 issue
Like hedgehogs and wood frogs, many beloved vehicles go into hibernation in the winter. This garaged slumber protects them from predators such as potholes and road salt and from sliding into ravines, and it allows for the completion of deferred maintenance—or its continued deferral. But in the spring, they are awakened from their respite, flushed with fresh fluids, and driven or shipped to events around the world, where they are venerated, ridiculed, and raced and generally given the opportunity to break down or crash and remind their owners of the fragility of life, which is a lesson that can't be learned too often.
Even if you don't own a special car, you can still take part in this annual ritual. Just go to an automotive event. Don't know which ones are best? Well, as in all things automotive, let us be your guide. Here are 20 of the most interesting gatherings of our vehicular tribe in 2018. You don't have to go to all of them, but you should.

Corbis Sport/Getty Images, DeremerStudios.com, Marc Urbano, Michael Simari, and the Manufacturer
Amelia Island Concours d'Elegance
Founded in 1996 as an upstart southern competitor to California's Pebble Beach Concours d'Elegance, Amelia Island has grown significantly in size and stature over the past 22 years to the point where the vehicles on display here are as prestigious as those at the world's top car shows. Because it's a bit less traditional, Amelia is often more adventurous in its classes and curation, so you'll see unique concept, coachbuilt, and celebrity cars. And because it takes place on a tiny barrier island off the coast of northeast Florida, it is more self-contained than other such gatherings. Everything occurs at the Ritz-Carlton—auctions, art exhibits, lectures and discussions, sales of ephemera, manufacturer rides and drives, black-tie galas, excessive drinking, and the concours itself. This means less time slogging through traffic and more time ogling beautiful cars. The crowds have grown considerably in recent years, but the location and scale allow the event to maintain a hospitable sense of intimacy and accessibility.
March 9–11 • Amelia Island, Florida • ameliaconcours.org
Radwood at Hooptie-Con
Don't miss an opportunity to watch millennials make humiliating errors in appropriating '80s and '90s fashion while fetishizing '80s and '90s vehicles. A Crapcannes car-film festival, a 24 Hours of LeMons race, and an engine-heat BBQ cookoff cap off the festivities.
March 24 • Sonoma Raceway, Sonoma, California • radwood.org

Moab Easter Jeep Safari
This annual tour is hosted by Red Rock 4-Wheelers and shepherds phalanxes of off-roaders, including the Jeep faithful, along 40 incredible off-road trails. To reward this fanatical brand allegiance, Jeep usually unveils a host of inspired concept vehicles.
March 24–April 1 • Moab, Utah • rr4w.com
Touge California
This 200-mile rally on the Pacific coast is sponsored by the superb Japanophile publication Japanese Nostalgic Car. Now in its fourth year, the rally celebrates the diversity of collectible Japanese vehicles and the obsessive culture surrounding them.
April TBA • Southern California • japanesenostalgiccar.com
Luftgekühlt V
Five years ago, two-time Le Mans class winner Patrick Long and his friend Howie Idelson decided to put on a car show. As, like just about everyone else, they love air-cooled Porsches, they focused their event on them. They named it Luftgekühlt because that word has uniquely complex combinations of consonants and because it happens to mean "air cooled" in German. They then invited cars that represented an obsessive's history of air-cooled Porsches to the parking lot of an L.A. cycle shop and told friends to stop by. Now in its fifth year, this pop-up show has become the event for Porschephiles but somehow retains its compelling combination of cool congeniality, insider exclusivity, and extremely good taste in Porsches. Celebrities such as Jerry Seinfeld and Patrick Dempsey mix with tuners, artists, brand ambassadors, fanboys, and the kind of hip concessioners usually absent from concours. Sign up for updates online so you'll be in the know when this year's location is revealed.
April 22 • Los Angeles, California • luftgekuhlt.com
Syncro Fest
This off-roading/camping event is the largest gathering of all-wheel-drive Volkswagen Vanagon Syncros (and other Type 2s) in America. Given its timing near May 5, it has also gone by the culturally appropriative and humorous name Syncro de Mayo.
May 3–8 • Hollister, California • syncrofest.com
Southern Ohio Forest Rally
This stretch of forest was once the battleground for a famed rivalry in the '70s and '80s but then went out of use for 21 years. The event, now bumped up to 130 stage miles, returned to Rally America's schedule last year with 76 starters—RA's biggest run in '17.
May 18–19 • Chillicothe, Ohio • southernohioforestrally.com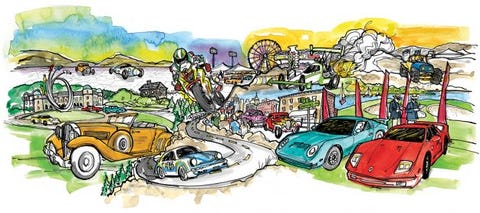 Corbis Sport/Getty Images, DeremerStudios.com, Marc Urbano, Michael Simari, and the Manufacturer
Isle of Man TT
The world's most dangerous motorcycle race features hundreds of crazed racers careening at more than 200 mph around a 38-mile loop of public roads on this rugged Irish Sea island. Watch amateurs attempt the same thing on Mad Sunday.
May 26–June 8 • Isle of Man • iomtt.com
Toledo Speedway Night of Destruction
Do you like to see big things being ruined? Ever wish you could witness a field of liveried school buses racing around a figure eight, smashing and flipping until they're nothing but shard salad? Yeah, us, too. This year, you have two opportunities to catch the carnage.
June 1 and August 17 • Toledo, Ohio • toledospeedway.com

Corbis Sport/Getty Images, DeremerStudios.com, Marc Urbano, Michael Simari, and the Manufacturer
24 Hours of Le Mans
A prestigious and historic endurance race, famous for advanced prototype race cars. But the site also has a concert venue, fairgrounds, and a carnival in the track's center full of 250,000 drunk, sleep-deprived cavorters. A spectacular spectacle.
June 16–17 • Le Mans, France • lemans.org
The Broadmoor Pikes Peak International Hill Climb
This crazed mountaintop race is the second-oldest continuously operating American motorsports event after the Indianapolis 500. With the notable exceptions of the years during which the world wars were being fought, plus 1935, it has been held annually since 1916. The Hill Climb is aptly named, as it entails racing up a 12.4-mile slog that features not only 156 turns but a gain of nearly one vertical mile of elevation. It ends at the 14,115-foot summit of Pikes Peak, among the tallest in the continental United States. The air is thin at the summit, with 41 percent less oxygen than at sea level, so drivers and their vehicles have to work harder to maintain power, speed, and focus. Cars, trucks, motorcycles, and quads all participate. In fact, unlike most sanctioned races, there are no limits on the type of vehicle that can enter; drivers have made the climb in overpowered semis and homemade EVs. Gravel sections used to add to the course's harrowing nature, but since 2011, for better or worse, the entire route has been paved.
June 24 • Colorado Springs, Colorado • ppihc.org
EyesOn Design
A carefully curated, 200-plus-vehicle celebration of ideal automotive design held at the lakefront home of Edsel Ford, whose name is ironically and unfairly synonymous with ghastly automotive design.
June 17 • Grosse Pointe Shores, Michigan • eyesondesign.org
Goodwood Festival of Speed
The 26th edition of the world's greatest automotive garden party. Held on the posh estate of the Duke of Richmond, the centerpiece is a balls-out hill-climb up the duke's driveway in everything from monster trucks to Formula 1 race cars.
July 12–15 • West Sussex, England • goodwood.com

Corbis Sport/Getty Images, DeremerStudios.com, Marc Urbano, Michael Simari, and the Manufacturer
Van Nationals
There is nothing shady about a van. Belief in this mantra, and little else, will unite some 600 vans and their drivers and occupants for "five days of hanging loose" in an area of Indiana that must be a minimum of 500 feet away from any school.
July 25–29 • Rensselaer, Indiana • van-nationals.com
Bonneville Speed Week
For more than a century, the salt flats around Bonneville, once measuring 96,000 acres but now only 30,000, have been the premier location in the human quest for maximum vehicular velocity. Bring sunscreen, but leave your margarita rim jokes at home.
August 11–17 • Bonneville Salt Flats, Utah • scta-bni.org
Monterey Car Week
The Pebble Beach Concours d'Elegance has been wowing car lovers since 1950. In the intervening seven decades, the event has developed from a small sports-car show and race into a weeklong car-and-lifestyle bacchanal that blankets the Monterey Peninsula in plumes of blue smoke and champagne spume. The actual concours is a must-see, and the ancillary events are more than worthwhile. Concorso Italiano showcases vintage Italian cars, with rows of overheating De Tomasos and Lancias. Legends of the Autobahn does the same for the Germans, but with less wasted fluids. The Quail is an exercise in elite excess for the oligarchic and overrestored—cars and humans alike. The Concours d'LeMons revives beloved and maligned baroque vehicles, mostly from the '70s and '80s. Auctions from Bonhams, Gooding, and RM Sotheby's feature record-setting eight-figure classics. But our favorite show comes with admission to the Rolex Monterey Motorsports Reunion at Laguna Seca: the chance to wander around the paddock and see, hear, smell, and feel vintage cars of every era starting up, revving, running, and racing.
August 17–26 • Monterey, California • pebblebeachconcours.net

Michael Simari
Woodward Dream Cruise
An amorphous automotive takeover of a 20-mile stretch of the first paved road in Detroit and America. If you enjoy the sound of Hemis, Clevelands, and small-blocks sitting in traffic, the Dream Cruise is for you. Prepare for full-on idle worship.
August 18 • Ferndale to Pontiac, Michigan • woodwarddreamcruise.com
NHRA U.S. Nationals
Drag racing is one of the seven wonders of the profligate world. This final race of the National Hot Rod Association's regular season is where drivers make last-ditch efforts to qualify for the championship playoffs and to wow deafened, fume-dizzied crowds with displays of speed greater than 300 mph. Attendees are as much victims of assault as they are spectators.
August 29–September 3 • Indianapolis, Indiana • nhra.com
Orphan Car Show
Ypsilanti, Michigan, was home to numerous automotive marques that no longer exist, including Apex Motors, Kaiser-Frazer, and Saxon. So it's the perfect locale for this oddball show, dedicated to dead car brands and their delightfully weird products. Cars must be a minimum of 25 model years old to be eligible for display.
September 16 • Ypsilanti, Michigan • ypsiautoheritage.org
Icelandic Formula Off-Road at Bikini Bottoms
The national championships of three insane regional off-road series take place in Tennessee but are inspired by extreme-terrain hill-climbs held in Icelandic rock quarries. As baffling as they are thrilling.
October 4–7 • Dyersburg, Tennessee • southernrockracing.com
Source : https://www.caranddriver.com/news/a18362929/our-entirely-subjective-guide-to-the-most-important-good-weather-automotive-events-of-the-year/
Terima Kasih for visit my website