► Sold out
► 8bhp over standard car
► But those limited-edition looks...  
How can you not to love the Ford Mustang? Okay, it's lacking in outright finesse and nimbleness compared with say a Porsche 718 Cayman, but that's cancelled-out by its Blue Collar appeal.
And before you get sniffy and suggest that's incongruous with today's sportscar elite then remember the Mustang's place in history – its workaday, everyman nature is and always will be intrinsic to its appeal.
This is a high performance coupe for the masses, bristling with effervescent charm that sees you let out of side roads with an approving thumbs-up, yet it packs a V8 that sounds filthier than the Strictly Come Dancing green room.
Talking verdantly, this Dark Highland metallic Mustang is more special than most, launched to commemorate the fiftieth anniversary of the movie Bullitt. 
Each of the first tranche of 350 UK-bound cars has already been sold, so if you fancy one, expect to pay a premium on the £47,545 asking price, which is already some £5400 higher than the regular GT, or hope that there's a 2020 model year iteration. 
Just a moment – what's this Bullitt film?
You serious? Okay, yes, you're serious. I guess it isn't shown on telly that often…
Named after its main character, Lt Frank Bullitt, the film's a gritty cop flick with Steve McQueen in the lead role.
Cementing the Mustang's association is that Bullitt the man drove a dark green '68 GT350 version of the Pony Car in the movie, featuring what's regarded as one of the most exciting car chases caught on celluloid (the pace is a tad pedestrian until this point), and thus the link was born.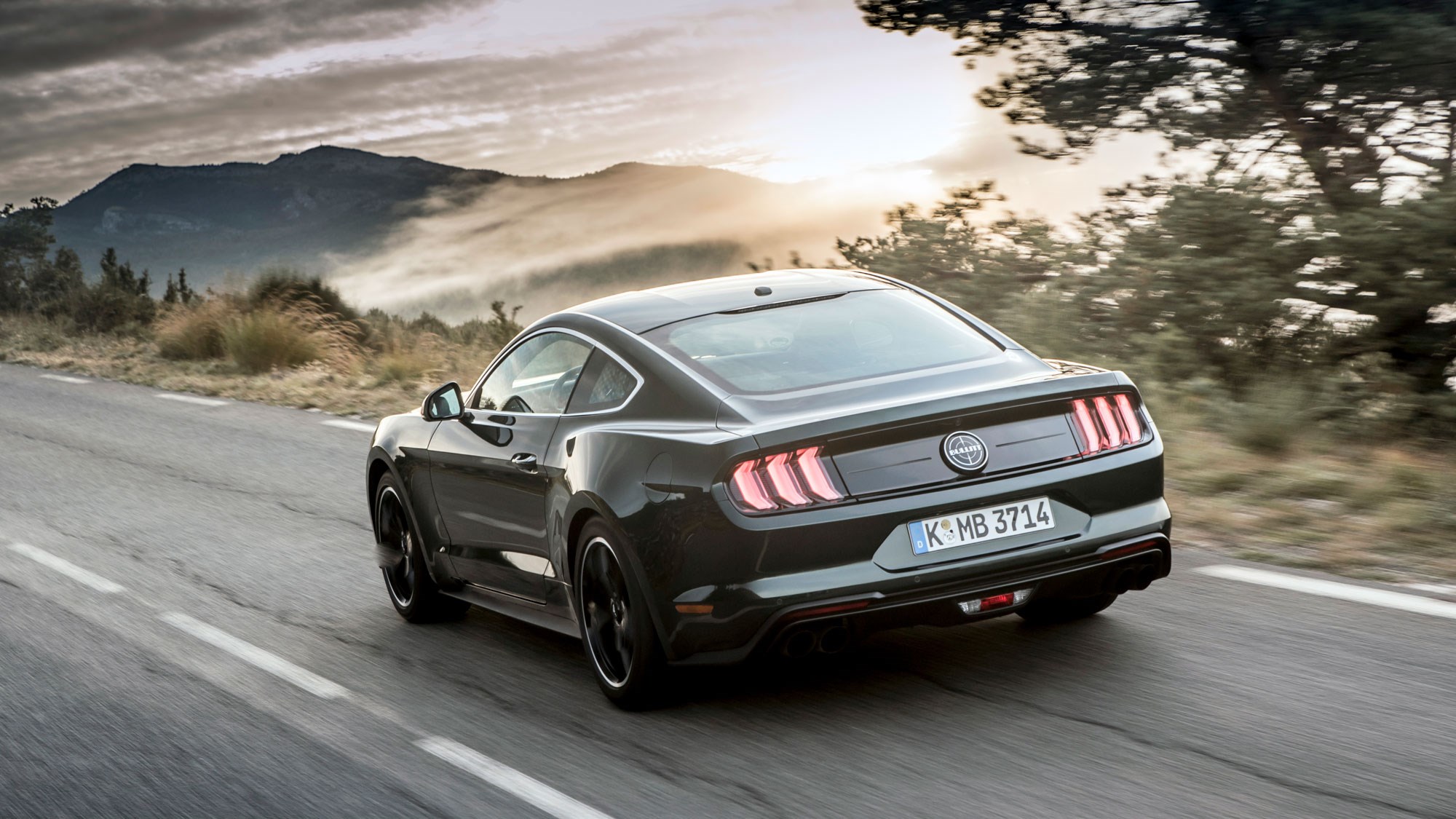 In fact, this is Ford's third Bullitt-themed Mustang, but the first to make it to Blighty in an official capacity.
Ford also milked the association back in 1997 for the Puma's launch advert – digitally slotting McQueen behind the wheel of the pert sportster as it appeared to be tearing around San Francisco.
It's worth reinforcing that the Bullitt association is with the film and lead character, not McQueen the alcohol-and-drug-addled, violently abusive actor. 
So what's special about the Mustang Bullitt over a regular GT?
Available only with the Fastback body and the six-speed manual paired with the V8, the Bullitt most obviously scores with the aforementioned green paint, although Shadow Black's also available. Not sure why you would opt for the latter, mind – that's a bit like voting for Brexit because you wanted a blue passport instead of a burgundy one...
Elsewhere you'll spot the unique gloss black five-spoke 19-inch rims with red six-piston Brembo calipers nestling behind, a de-ponied front grille, a cue ball gearknob, green interior detailing – including the instrumentation – and Recaros up front. They hug you, but the GT's more accommodating chairs for those broad of arse are available.
Oh! And an 8bhp power increase.
Eight? I've had more powerful sneezes
Whimsical increases aside, lest not forget that weighing down the Mustang's nose is a 5.0-litre bent-eight that serves-up 453bhp to the rear wheels in a very playful chassis. 
Power's up courtesy of a revised open air induction system and throttle bodies increased from 82mm to 87mm – for now these modifications will be Bullitt-specific, but we wouldn't bet against them eventually finding their way onto the GT.
Sure, it can behave and be docile, but that's against the Mustang's nature – this is a sports car that wants to play in a boisterous fashion. Pilot it with vigour and you feel like you've been roughhoused behind the wheel, yet you're still grinning from the experience.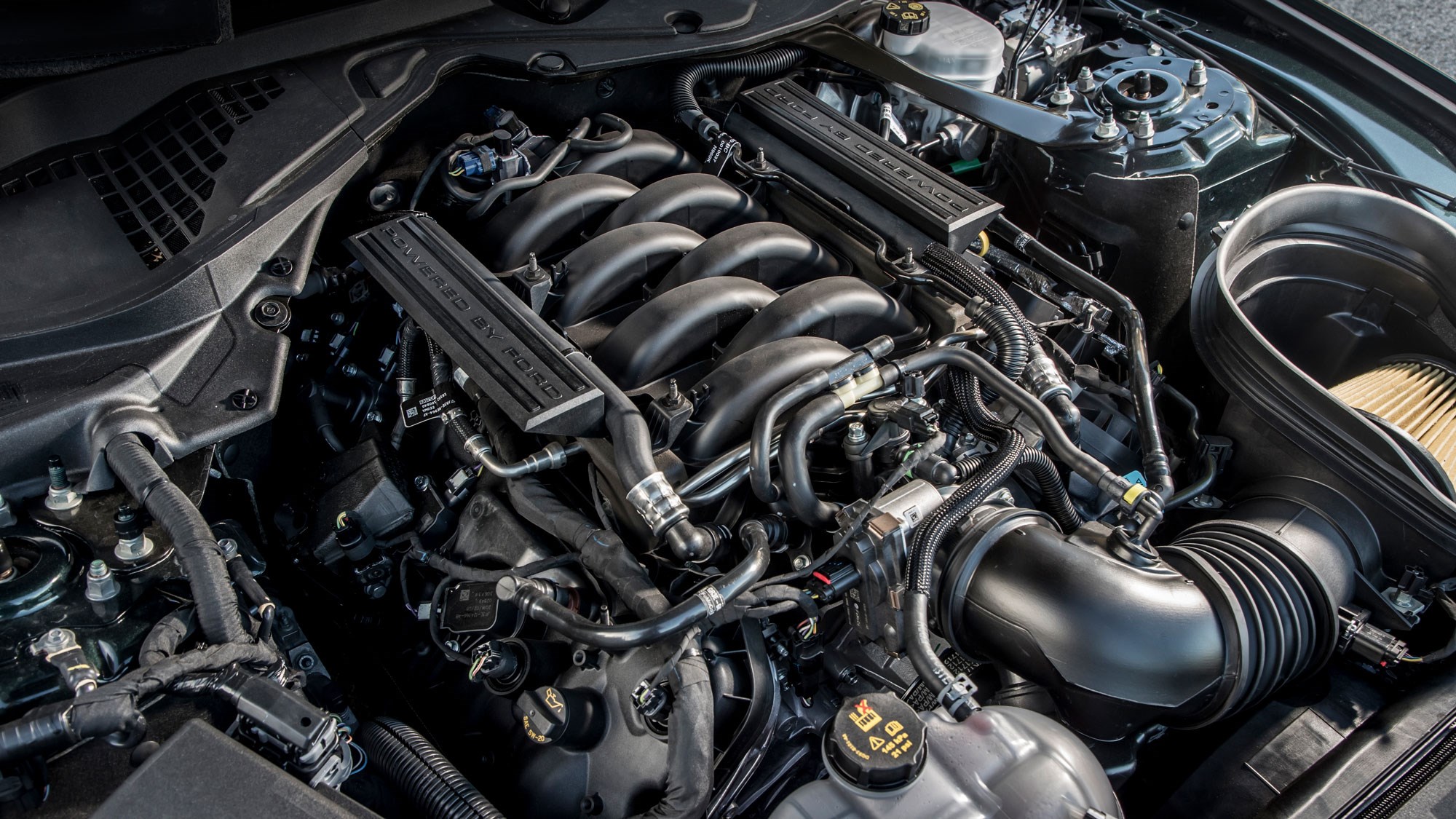 Not only are your ears treated to that warbling V8 rumble, the reverberations are experienced in every touchpoint your body has with the car – it's deliciously immersive. Ford's worked on giving the exhaust a throatier, burblier resonance, with blips on gearshifts thanks to rev-matching trickery. This is how you've wanted the latest-generation Mustang to sound like from Day 1.
Pity the steering's not chattier about what the front wheels are up to, especially when the axle's shouldering the heft of the powerplant as well as changing direction. You soon learn to be evangelical about the grip on turn-in, for you need faith in the tyres to aid you around corners confidently. That and a bit of steer-by-throttle at the rear. 
Most importantly it entertains, in a bruising kinda way, particularly as you thread it through a serious of twists, turns and switchbacks. It doesn't disgrace itself, but it consumes your concentration, particularly as the rear-end can be playfully twitchy when you want it to be. 
And how's that gearbox – an American slushmatic?
Away with you and your automotively prejudiced ways, although it has to be said that it says something when European sportscar builders have all-but abandoned manual transmissions that the continent's best-selling V8 with the stick shift hails from the US of A.
It's a delight, too, and far superior to the 10-speed auto found in other Mustangs which is forever chopping and changing its mind about which cog to swap in to.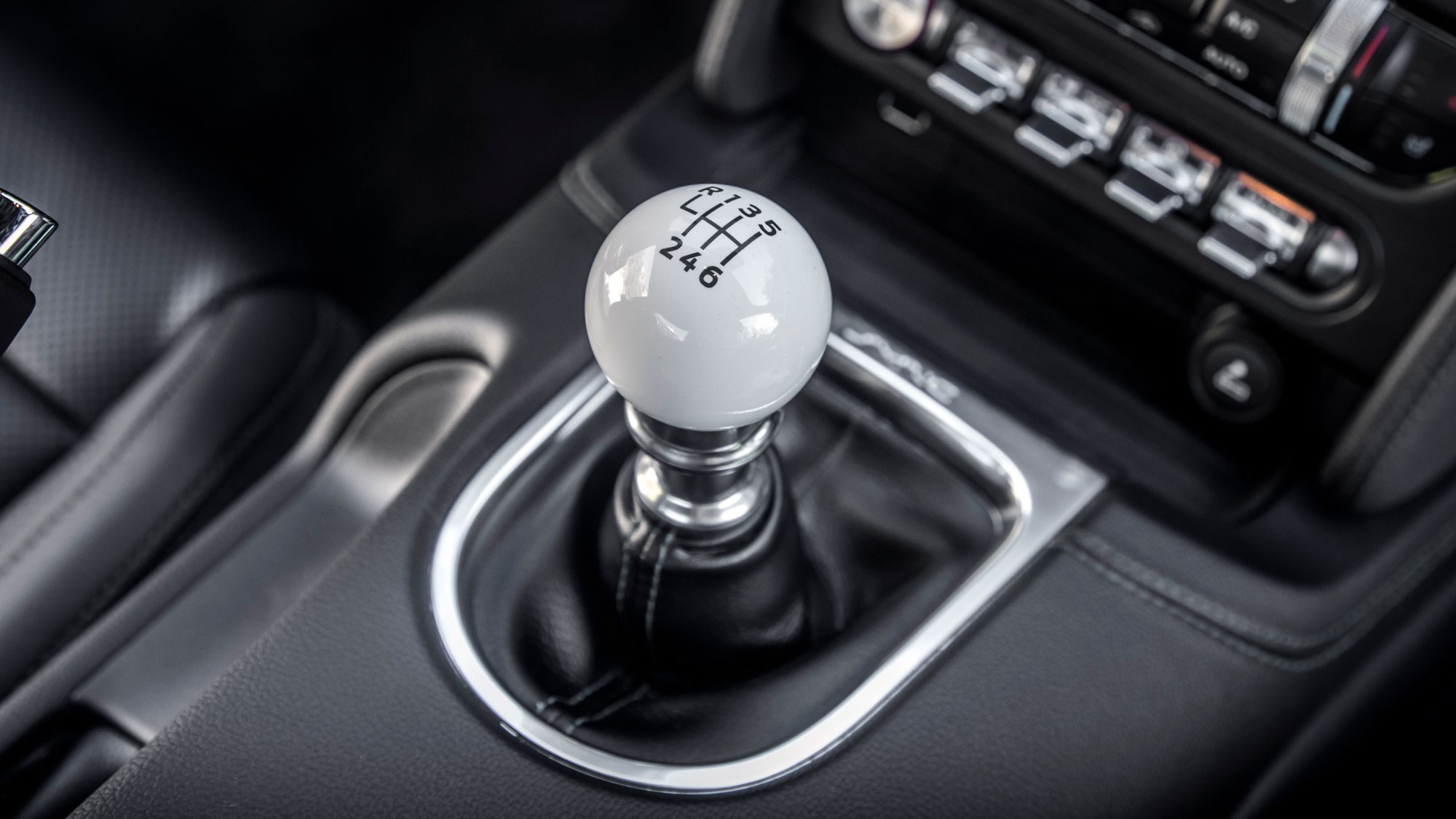 With the six-speed manual's positively slick shift action you're forever changing gear for the tactile joy of doing so, which given the tsunami of torque at your right foot's disposal is largely unnecessary as it'll happily pull from very low speeds in its upper ratios.
That's welcome, too, as the clutch action is heavy in an old-school manner – a few months of ownership and your left ankle will be girthier than Kazakh weightlifter's neck.
Ford Mustang Bullit: verdict
There's little argument that the Mustang Bullitt looks the canine's plums – lightly modded visuals, with the security of knowing its factory fresh. Plus that dark green bodywork, accentuated by plenty of black and chrome highlights looks sufficiently retro without becoming old-man-in-HiTec-Silver-Shadows.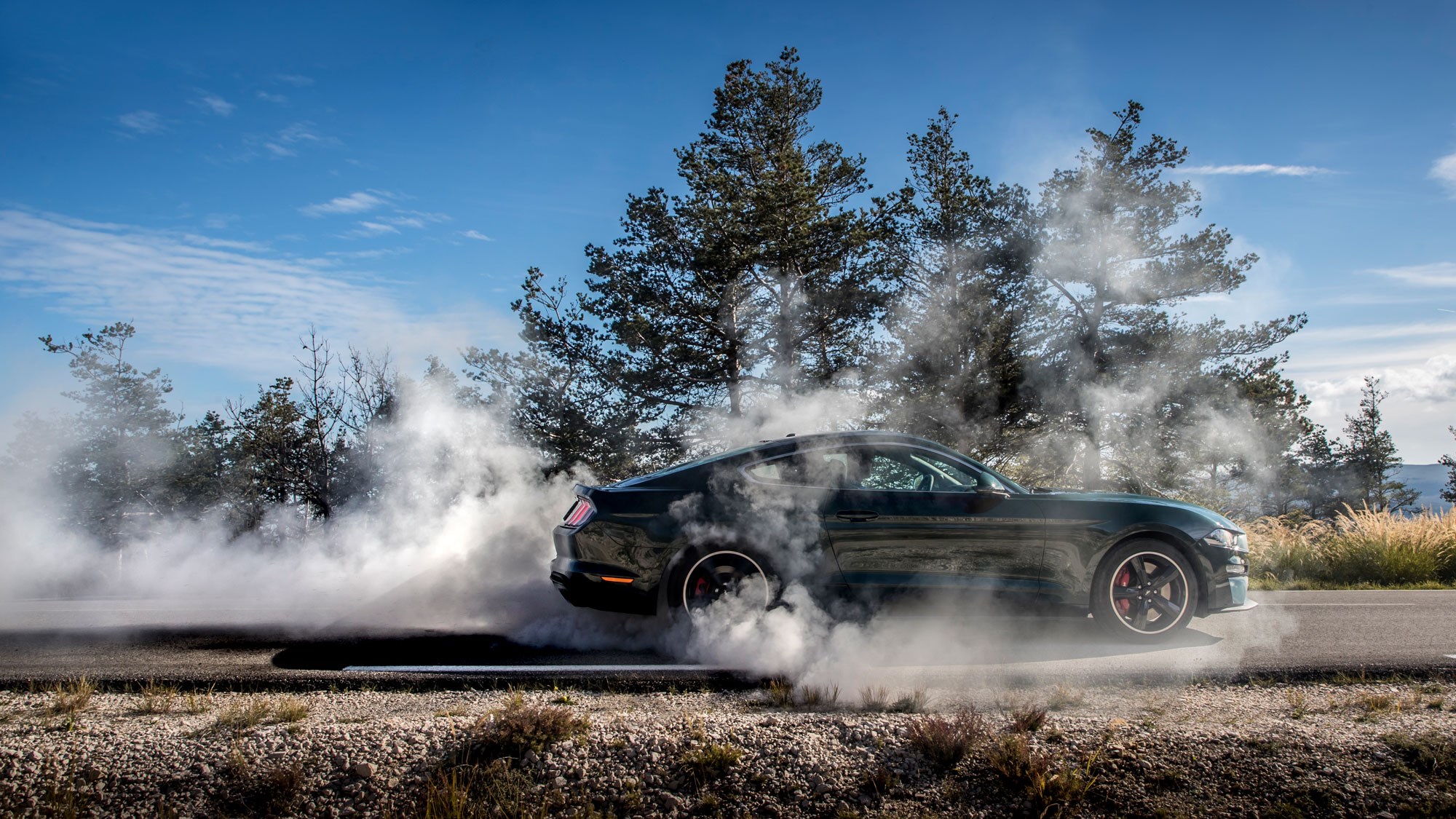 It's fun, brash and feels just that bit more special than a regular Mustang in thee process.
Therein lies the problem: that £5400 wedge over an already appealing GT V8 is more than just 'a bit'. If you've already bitten the Bullitt (oh, come on already, I had to) you're unlikely to be disappointed. For everyone else, think of the extras that cash will buy.
Source : https://www.carmagazine.co.uk/car-reviews/ford/mustang-bullitt/
Terima Kasih for visit my website