I am purposely refraining using the word 'cheap' or 'affordable' - those are relative terms, but this list is comprised of electric cars that represent the best value for money compared to the current competition. It's also worth remembering that electric cars, much like solar panels, are an investment. The high startup costs are negated over time by savings elsewhere. For the sake of comparison and context, a new Tesla Model 3 will run you about $50,000.
1. Smart Fortwo Electric Drive: the tiny one
For city dwellers who need something small to nip about town, the Smart Fortwo Electric Drive is the one to go for. Sure, it's not the most practical, largely thanks to the fact it only has two seats and almost no luggage space, but its tiny size provides parking advantages. The Coupe version uses about 15.1 kWh per 100 km and has a range of up to 160 km - although recent tests have found the range to be more like 124 km. The Smart Fortwo Electric Drive.

The Smart Fortwo Electric Drive starts at $23,800 MSRP, although you'll have to pay an additional $750 charge to get the manufacturer to deliver it to your dealer. You can buy find your local dealer at smartusa.com.
2. Volkswagen e-Golf: the solid one
Ok, so if we ignore the obvious historical reason not to buy a 'green' car from Volkswagen, and just look at the overall package and price, the VW e-Golf will be a tempting option for those looking to make the switch to an electric car. It looks much the same as a regular Golf, which is nothing short of an iconic VW model. It features a 134-horsepower engine and can reach up to 200 km in range. An optional DC fast charge system allows you to charge the battery to 80 percent in just an hour.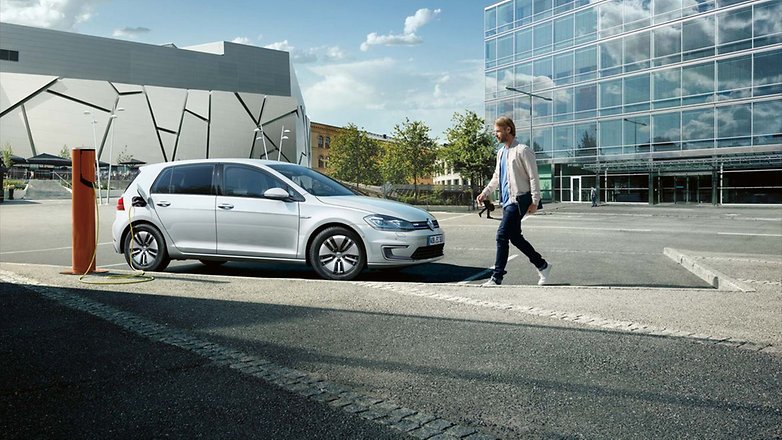 The Volkswagen e-Golf SE starts at $30,495. There is also a limited edition version for $33,795 or the SEL Premium starting at $36,995. You can get a quote at vw.com.
3. Fiat 500e: the stylish one
The Fiat 500 is probably the best-looking electric car you can buy today. It's another city compact but with bags of style and Italian flair. The range is significantly shorter than the VW at 135 km on a full charge, but it's easy to park and fun to drive. This zero emissions vehicle also features some cool navigation tech in the shape of UCONNECT 3. The motor is 83-kWh or 111-horsepower, whichever way you want to look at it.
Prices in the US starts at $32,995 but you can only buy the Fiat 500e in California and Oregon at the moment. You can order yours at fiatusa.com.
4. Hyundai Kona EV: the smart one
If it is range you are looking for, look no further than the Hyundai Kona EV. The South Korean manufacturer has put together well-rounded SUV with a range of more than 400 km. The official range from Hyundai is 415 km, but tests have found that this thing can go as far as 435 km before you need to recharge it. That is Tesla range, for anyone who is interested. It features a 64-kWh lithium-ion battery that puts out 201 horsepower. It also supports Apple CarPlay, Android Auto and Bluetooth.
Source : https://www.androidpit.com/best-electric-cars-buying-guide
Terima Kasih for visit my website